The project application provides access to all projects in your CINX account, as well as a starting point for a new project. Please remember, there are many places within the CINX platform to start a new project. The slide-out Utilities panel also has the project listing and a new project button.
There is a four step New Project Wizard to help you gather the information and set up the project, including the standard project information, customer/contacts, pictures, and project milestone dates.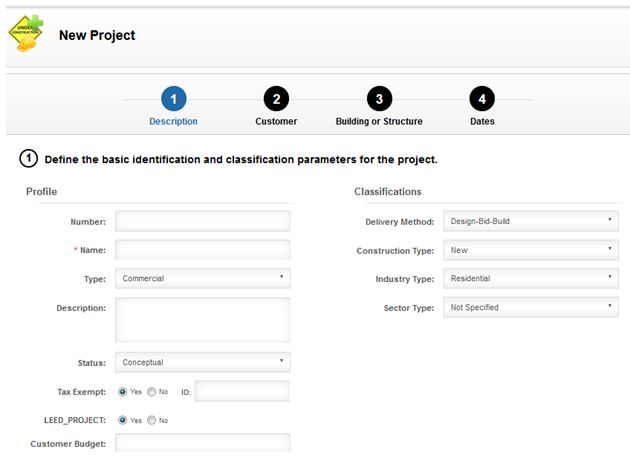 Upon completion of the wizard, the new project will be created and ready to use!
Once you are in a specific project, you'll be on the project landing page where project specific information can easily be accessed or edited, and you can begin an RFQ, PO, or Import a BOM.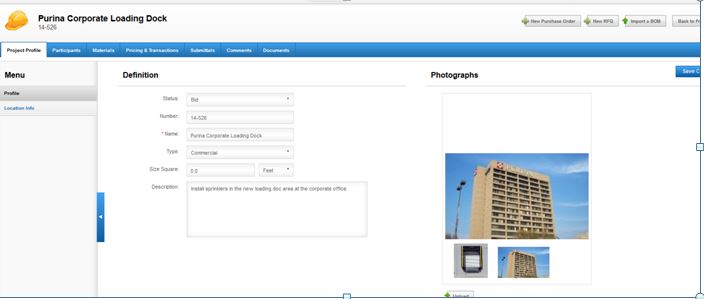 The project menu ribbon is similar to the customer ribbon. Below is a brief explanation of each menu, and potential uses.

Project Profile - Project Name, numbers, description, pictures, etc., and location information. This information is gathered during the set up wizard.
Participants - This tab allows for the assignment of both internal and external project participants. Internal assignments might be Project Manager, Estimator, Foreman, Purchasing Manager.
External project participants would include sub-contractors, the customer, distributors, and engineers.
If the participants are not members of CINX, there is an INVITE option for both internal and external participants.
Materials - this is probably the most frequently used tab in the project. It is a listing of the materials associated with the project. This tab includes information such as work breakdown structure as well as the various pricing levels, quantity levels. Utilizing the different VIEWS, different information is available to view/edit.
Pricing & Transactions -Another powerful tab, the pricing and transactions tab allows you to set multipliers by price lines, view manufacturer price sheets in use in this project, set buy prices by applying quotes.
Submittals - This tab will aggregate the specific document types (as definied by the user) into one pdf.
Comments - Project members can add and reply to comments specific to this project.
Documents - Project specific documents can be uploaded and stored here for easy access and sharing.
There is another set of buttons within the project to help you quickly complete various actions.

New Purchase order - this button will begin the purchase order creation. After a name and vendor have been selected, the next decision is which items to be included on this purchase order. Check the applicable box, select a location to save the PO, and click save.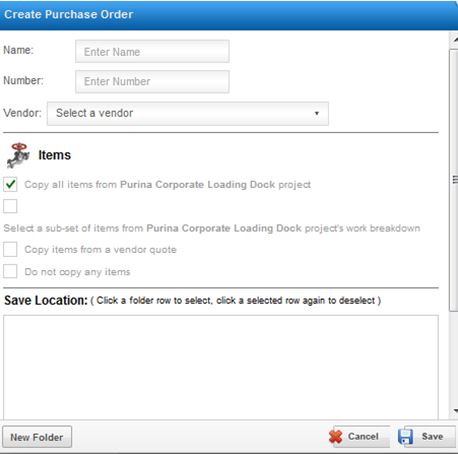 New Request for Quote (RFQ) - Similar to the New Quote, this button will create a new project based RFQ.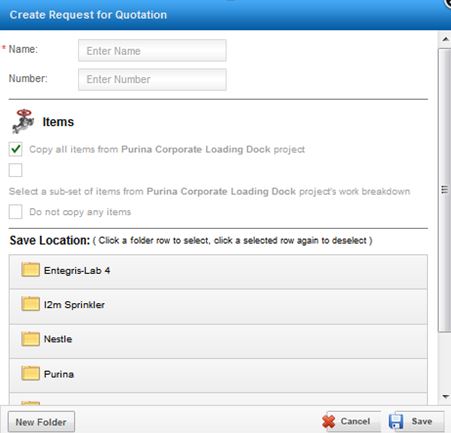 Import a BOM - this button is designed to help quickly populate the project materials based on an import from the estimating or CAD system. CINX has a number of pre-defined imports from various partner systems. Contact HPH if you need one created.