Below are some tips Elizabeth likes to provide to CINX users...
DASHBOARD / QUICK LINKS widget -
Use the dashboard widgets to get a summary of activity in your CINX account. Remember you can turn on/off and rearrange the widgets!
The Quick Links widget is particularly helpful for kicking off commonly used CINX tasks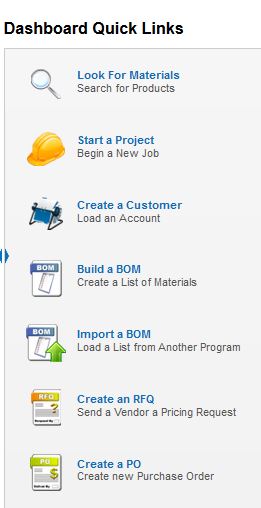 ACTIONS from within a project, customer, vendor, search
When you find you would like to do something - print, export, create a new RFQ two common places to check - a grid ribbon menu or buttons in the upper right of the CINX page, with the green plus sign.
Grid Ribbon: - adjust the columns in the grid, switch the view (thumbnail or grid), print, export, and more. Options will vary depending on the section of CINX you are in - search, project materials, etc.


Action Buttons in upper right - these are typically used to create something - customer, project, rfq, import a BOM, Start a RFQ....

SEARCHING -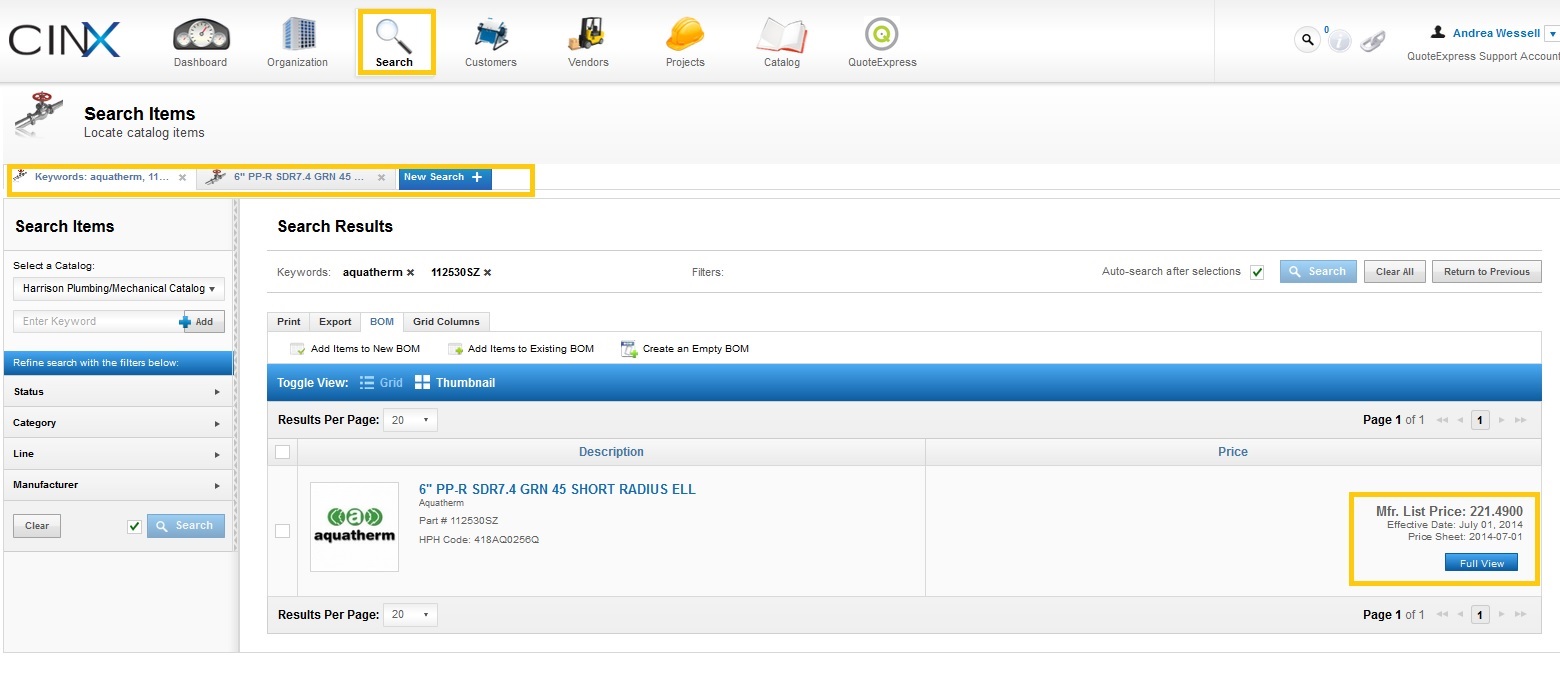 · you can have multiple tabs (similar to a browser) for your searches
· the FULL VIEW will open up a page for that item, with any additional information (price history, links to additional resources we may have)
· the filters on the left are similar to the intellisearch – just keep using the open ARROWS to drill down - checking the box next the name will execute the search
· Drag and Drop - you can just drag and drop items from the search to the Utilities panel (it is the slide-out panel on the right side of the screen – hoping to provide customers with easy access to what they need!)
Also, see the many videos we have on Searching for more info!
UTILITIES PANEL -
The utilities panel is a quick way to access your project, catalog, BOM, RFQ and PO libraries. Just slide out the panel on the right!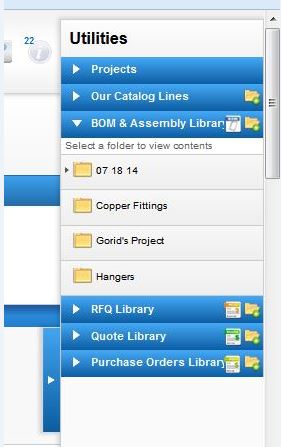 You can drag and drop items from the search (or catalog) application to any section of the utilities panel. EASY!
CREATE A CUSTOM CATALOG in minutes -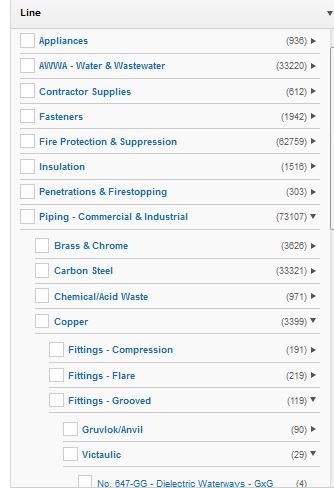 HPH developed 100s of "lines" and made them available to you in CINX. Simply drag and drop the existing HPH Line from the search filters to the CATALOGS section in your utilities panel...and voila! All of those items are added to your company's custom catalog.
The lines, built by type of contractor work. We've got you covered with pretty much any type of work you do!
Custom catalogs can be utilized by many departments within your company - help non-industry users (billing, purchasing) find the items your company uses.
IMPORT a file -
Importing a file from an estimating or CAD system is incredibly easy. Depending on what you are going to be REUSING this information for, you can create/add the items to a Project, BOM, RFQ, or PO. Save others from having to go hunt down and reselect the same data that's already been collected.
Easy to find kick-off points:
Import as a BOM from QuickLinks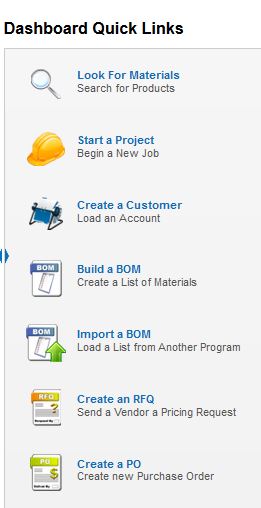 Import to a project, click the IMPORT BOM button within the desired project

Import to an RFQ - create the RFQ (from Quick Links, within a Project, or Utilities pane) and then you'll see the option to IMPORT a file.
IMPORT to a PO - create the PO (again from Quick Links, project, or Utilities pane) and then you'll see ASSISTANT - which has a few menu options; one of which is IMPORT.