If your vendor(s) of choice is also on the CINX platform, it is easy to connect to them to make the RFQ/Quote/PO process fast and easy!
First, you'll go to the vendor application and search for your vendor (easiest to search by name, and make sure it is set to "public" vendors")

Once you have found the vendor you would like to connect with, select the "add as vendor" button.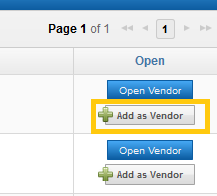 A request will be sent the vendor's account. You can monitor and resend this request in the connector utility.

You will receive an alert when the vendor Accepts your request.

You don't see your vendor listed?!?
If you don't see your vendor as a CINX public distributor, you can set them up in your account as a private vendor. There is a short wizard to get the vendor set up in your account. But, in order to fully gain the benefits and efficiencies of CINX, you should get your vendor CINX-ed up!
Feel free to suggest to your vendor to get on the CINX platform! They can contact us at This email address is being protected from spambots. You need JavaScript enabled to view it. or 800.890.0820.